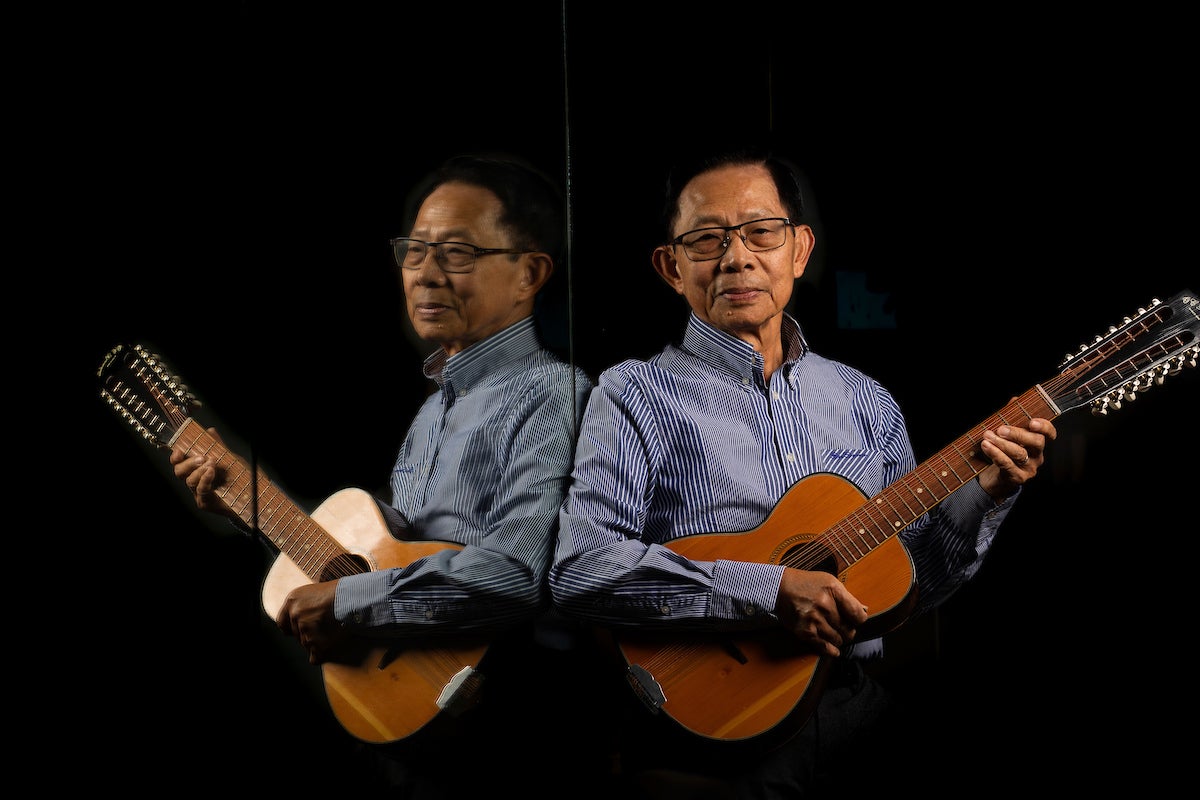 Music teacher recognized by the National Endowment for the Arts
When Tagumpay Mendoza De Leon left his native Philippines 50 years ago, he had only one priority: to work to support his parents, who remained in his native country.
Being away from the homeland was difficult, but her companion, a Filipino bandurria instrument, dampened the desire. Notes from the 14-string acoustics, resembling a small guitar, allowed him to play tunes such as "Sampaguita", a song that pays homage to the national flower of the Philippines.
For 20 years, De Leon brought UC Riverside its culture, history and love for the Philippine rondalla – a musical practice made up of a set of stringed instruments. Over the years, the 76-year-old lecturer has worked with dozens of students, giving them insight into this musical fusion with Spanish roots, which can also be found in countries like Cuba and Mexico. De Leon has also been a central force in the preservation and promotion of Filipino music with the ensemble he founded 30 years ago in Los Angeles, the Rondalla Club of Los Angeles.
His influence has been recognized by the National Endowment for the Arts, or NEA. This summer, he was named a National Heritage Fellow and is one of nine fellows whose life journeys were featured in the first film "The Culture of America," released Nov. 17 by the NEA. The virtual event was hosted by actor Jimmy Smits.
"This is a big deal. These scholarships are the equivalent of what are called in other countries national artists or living cultural treasures," said Deborah Wong, professor and ethnomusicologist at UCR specializing in music. music from Thailand and Asian America. Wong and former UCR music doctoral student Neal Matherne nominated De Leon for the award. Most nominees are not selected on the first try, but De Leon did so, Wong said. The NEA recognition came with a prize of $ 25,000.
De Leon, known as Uncle Pi, has been teaching a Friday night class – first at Olmsted Hall and now at the World Music Studio in the track building – since 2001. His very first class had 28 students, including Matherne, with only 12 instruments. to share between them. Most of the students were of Filipino origin at the time, he said. Now, interest in rondalla music has grown and Chinese, American, Korean and Mexican students are also taking its classes.
"I teach because I want to discover new talent," said De Leon, Rondalla lecturer in UCR's music department.
At his Burbank home a day after receiving the NEA Medal, De Leon said he was surprised by the award.
"It's interesting because I'm self-taught. My mom was a concert pianist and my dad was a composer and conductor, but my dad discouraged us from becoming musicians because he always told us, "You want an extra way to make a living. "
In the Philippines, he enrolled at the Mapúa Institute of Technology, now known as the University of Mapúa, and obtained a bachelor's degree in chemical engineering. At home, he still joined his parents when they rehearsed; many of the early arias played by De Leon were by Felix Mendelssohn and other European composers.
Today, his repertoire consists of around 500 songs, mostly music from the Philippines, but he can also strum Mexican melodies.
"When I play, I like to please people, the audience," said De Leon. "It's the only way to spread your music, the only way to promote your culture. "
With the Rondalla Club of Los Angeles, De Leon performed at the Chateau-Gombert International Festival held in Marseille, France, in 1990 and 1993. He is also a member of the Philippine American Symphony Orchestra, playing the bass. The LA-based orchestra last performed at the Walt Disney Concert Hall in 2019.
On campus, he works with students to provide them with opportunities for growth, including joining UCR's Gluck Fellows arts program, he said. For the past 15 years, her student ensemble rondalla has performed on campus at the Evening of Filipino Culture, known as PCN. The event that became so popular that it moved to the Fox Performing Arts Center in downtown Riverside.
"Your contributions to the preservation of the rondalla here in the United States contribute to the pride and heritage of our country," UCR Chancellor Kim A. Wilcox said in a video message honoring De Leon. "But I also think of all those Filipino Americans and others of Spanish origin for whom the rondalla has such an impact. All of these are the recipients of your contribution to our collective heritage.
When De Leon left the Philippines in 1971, he joined the growing exodus of Filipinos in search of greater economic opportunities. He is one of more than two million Filipinos who currently live in the United States; the Los Angeles area is home to the country's largest Filipino American population. Upon arrival, De Leon moved to Burbank, the city where he and his wife raised three children.
De Leon uses both the stage and the space of his classroom to uphold the tradition of the rondalla and pass on its rich heritage. In a recent class, Ricky Zeng, 23; Karen Plascencia, 23; and Jiaqi Li, 24, picked up their instruments and followed De Leon's instructions. The students followed the notes on paper or on their cell phones.
Learning a new instrument and the history that surrounds rondalla ensembles is what primarily intrigued these three students, they said as De Leon tuned their bandurrias, the smallest of the instruments in a rondalla.
Zeng said he was fascinated by rondalla and its Spanish roots, as well as how the 377-year-old Spanish rule on this Southeast Asian island influenced all aspects of life and culture. philippines.
"I'm naturally interested in different cultures, how they've changed," said Zeng, a fourth-year gender and sexuality student. This is his first quarter in De Leon's class. De Leon shares stories with them about the instruments, the Philippines and the songs they play, he said.
NEA considers De Leon to be a "cultural bearer," which means his teachings carry important knowledge and memory of culture, said Wong, the professor who nominated him for the award.
"We already knew he was amazing, and now the whole country knows it," Wong said. "The reason we have had him taught for so many years is because he is not only an amazing teacher, but also known and deeply respected in the Filipino American community. What the NEA has recognized is that Tagumpay is a person who carries his tradition to the community in a very sustained and meaningful way. At UCR he does this as part of the ensemble class, and we are very lucky to have him with us for so many years.