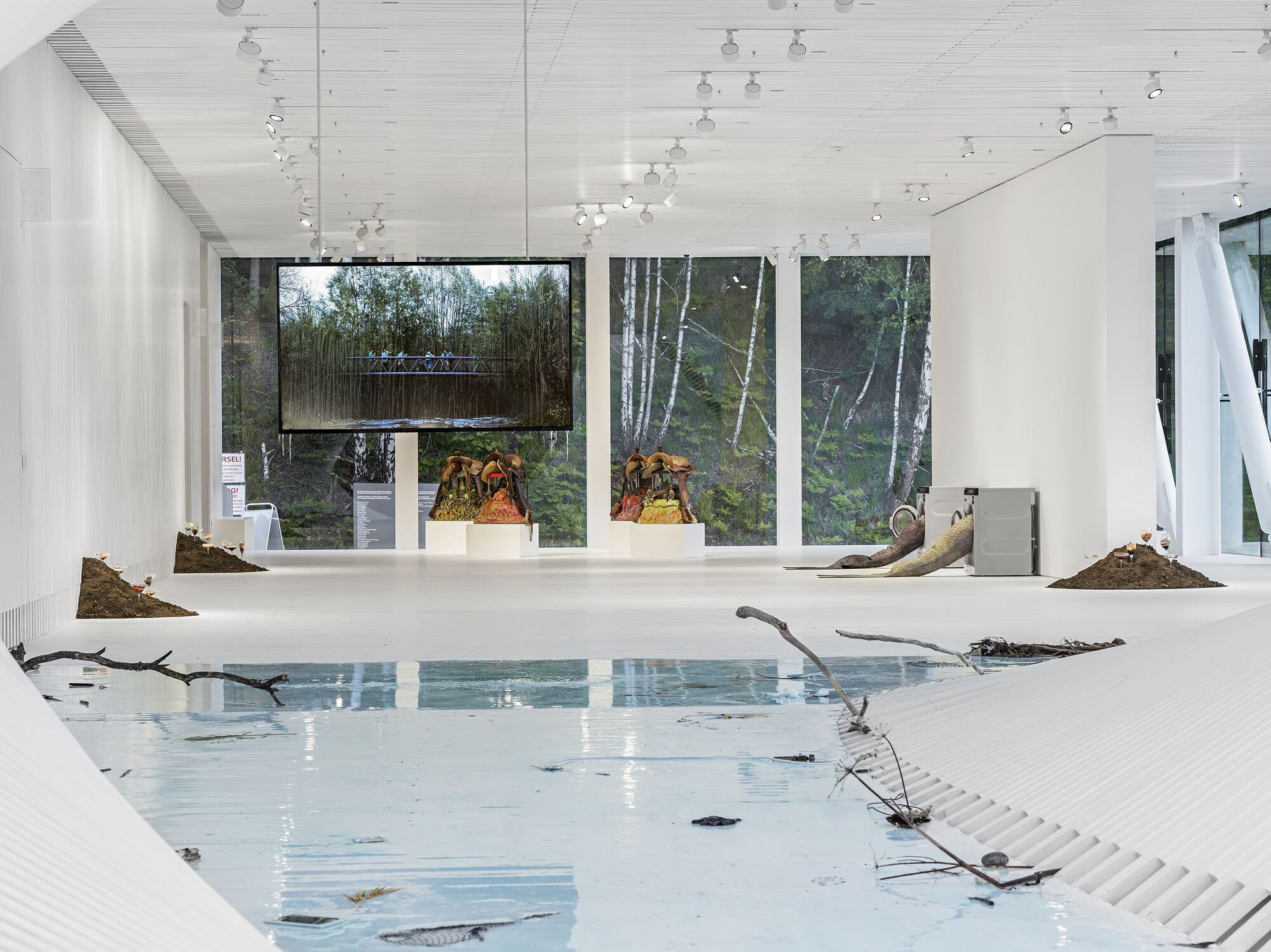 Liquid Life – Ads – e-flux
Artists: Olivia Erlanger, Cécile B. Evans, Ane Graff, Pierre Huyghe, Sandra Mujinga, Laure Prouvost, Max Hooper Schneider, Soundscape by Samson
Liquid life is a group exhibition presenting the works of seven international visual artists – including five new commissions – a collaborative sound piece and a series of musical and dance performances, all inspired by a reflection on the relationship between man and nature through the postmodern ecology, eco-feminism and biology. The exhibition is rooted in the expression of "liquid modernity", coined by the Polish sociologist Zygmunt Bauman to define a postmodern world ruled by immediacy and communication, which erodes the anchored bonds between people and bodies by revealing the fragility of a society based on individualism. and constant change.
Shown inside the Twist and in its external environment, the exhibition connects the building's hypermodern architecture with its natural surroundings in the mystical Norwegian woods that envelop it, highlighting the tangled relationship between nature and humanity and questioning our ability to coexist and evolve together.
Welcoming visitors like a doorman or a disturbing sentry leaning against the wall, Sandra MujingaThe sculpture in the shape of a corner tent evokes a spectral presence while assuming the role of architectural hiding places. He's a ghost that haunts us, perhaps a post-apocalypse survivor or a lingering specter of environmental destruction. The installation is enhanced with a green light reminiscent of a green screen and immerses the viewer in an environment that resembles a nightclub or a travel dystopia. Inspired by the world-building practices found in video games, sci-fi novels and Afrofuturism, the artist invites us to enter an ephemeral and ethereal world.
Cecile B Evans' for A Future Adaptation of Giselle (the battle of Willis forever) is a three-channel film installation that is part of an ongoing adaptation of classic industrial-era ballet Giselle, co-produced with the Ballet National de Marseille / (LA) Horde. Work is rooted in the struggles of a family trying to adapt Giselle in a groundbreaking eco-feminist thriller as the modern world crumbles and focuses on the development of a pivotal and dramatic moment: the battle scene. The director, a bustling rubber factory, grapples with the structural shortcomings of his own process as the boundaries of the different realities they inhabit are broken through and begin to intertwine. Installed in several stages during the duration of the exhibition, for a future (…) extends its internal themes of multiplicity and mutation outward towards visitors.
Further into the Twist and inspired by his liquid and sprawling project for the France Pavilion at the 58th Venice Biennale, Laure ProuvostHer installation reflects the attention she pays to the natural and human elements that surround her, evoking the immersive quality of her films, installations, objects and drawings. The artist coated the floor of the Twist with bluish resin, adorning its surface with shattered technological debris, glass objects and materials found in the museum. This river of resin culminates with the projection of an extract from They Spoke Ideal (2019), in which a group of travelers happily dances to the sound of a fanfare in the wacky architecture of Postman Cheval's Ideal Palace.
Overlooking the river, Pierre Huyghe's job is an output of his project UUmwelt, conceived as an imaginative co-production between a human and a machine using a brain-computer interface. During the process, a set of elementary components were given in the form of images or descriptions for a subject to imagine, including biological entities, prehistoric tools, machines, codes and works of art. As the person imagined these components, their brain activity was picked up by a FMRI scanner and reconstructed by a deep neural network. As a result, the work is a mental image transformed into a physical object and composed of an aggregate of synthetic and biological materials and microorganisms that are caused to change according to its environment and, ultimately, to erode over time. .
In his installation entitled Ida !!! Olivia erlanger presents a series of life-size silicone mermaid tales hanging on the open doors of washing machines. The chimerical surrealism of these mythical creatures seems to contrast humorously with the raw functionality of the washers, echoing the industrial site of Kistefos and its dialogue with the magical woods that surround it. Here, a fictional character from a Norwegian folk tale seems to have invaded the reality of the exhibition space, representing in many ways the contemporary reappropriation of the surrealist ideal of the 'marvelous', a notion doomed to the re-enchantment of a world, that of a capitalist society made cruelly rational.
Fascinated by the human body as a meeting place where microbiology, materials and personal stories come together, Ané Graff released three series of tumblers containing an assemblage of materials: medicines, consumer goods, food, cosmetics, historical pigments, earth, fertilizers, salts, metals, shells and minerals. Considering the relationship between synthetic biology and biomedical engineering, the work was reinforced by a collaboration with New York scientist Tal Danino, through which the artist was able to add bacterial cultures and pigments to some of his sculptures. Acting as a living invasion of the exhibition space by local flora, Graff's installation also reflects on our relationship to bacteria, microbiome and viruses.
Max Hooper SchneiderThe work in the exhibit, during a month-long residency, will hybridize and revise items made inside his Los Angeles studio – desert assemblages resembling sanctuaries, a salvaged highway sign. , a cast aluminum of a demolished conveyor belt – with site documents and regional workflows. Research on water and the power of fire, forest biota, holographic projection, past and present folklore and stories of fabricated landscapes, will materialize a logic that manifests itself through a series of appearances of neon lights, fountains inflamed, parasitic signaling and glass integuments. The resulting installation will attest to the artist's interpretation of the creation of ecological myths grounded in the conditions presented by a unique temporal and spatial order that remains in motion.
Containing the introduction and conclusion of the exhibition, a collaborative soundscape work, composed and produced under the direction of a musician and electronic producer based in Paris Samson, welcomes visitors into the woods, leads them into the exhibition space and accompanies them on their way out of the Twist. Inspired by liquidity, Norwegian folk culture and the Museum's sound environment, and envisioned as a collaborative effort, this 40-minute experimental piece brings together various styles of music — spiritual jazz, cosmic pop, spoken word, ambient and sound— performed and recorded by a group of international musicians including Nils Bech, Clémentine Billy, Chouf, Daniel Clarke, Carel Cléril, John D'Earth, Julian Garcia, Robby Sinclair, Anna Majidson, Tez, Audun Waage.
The exhibition was made possible thanks to the generous support of Kistefos AS, Ballet National de Marseille / (LA) Horde.