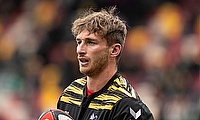 "It took a lot of work this season to get this opportunity"
So far this season, Josh Bassett has made 25 appearances for Wasps in all competitions
©David Howlett
It took Alfie Barbeary's try with three minutes remaining in Edinburgh to send Wasps into the Challenge Cup semi-final against Lyon.
It was a game largely won by the brutality of Lee Blackett's forwards, with Barbeary one of three strikers to come from the pack alongside Biyi Alo and Tom West, while the ever-green Jimmy Gopperth was the exception to the rule .
Mike Blair's Edinburgh had lost just once at home all season before the English knocked on the door at DAM Health Stadium. The hosts started the brightest, with former Wasp Ben Vellacott scoring the first try after the two sides traded penalties to start the proceedings.
Although it was not a trial weekend for Josh Bassett, the 30-year-old winger still scored 80 minutes for his club. Currently in his ninth season with the Wasps, the former Bedford Blues man was enthusiastic about his teammates' efforts last Saturday afternoon.
"They like to throw the ball around a bit, they showed that and we probably didn't take the opportunities we needed with the pressure we put on them in the first half," he told TRUE.
"I think the peloton did extremely well in the scrum and put us in those positions. They continued to do that in the second half, and we were able to stick to the game plan a bit more and take a few more opportunities and put pressure on the scoreboard.
"As is always the case in big games, the momentum comes and goes, and I thought that was the case towards the end. I think we showed real resilience to hold on and picking up a big win against an in-form club and a club that had only lost once all year at home.
Since first donning a black and amber shirt, Bassett has reached six semi-finals with Wasps – four of them in the Premiership – and that was in 2014 when the club were last at this stage of the Challenge Cup , losing to Bath 24-18 at Adams Park.
Reaching this stage of the Challenge Cup this season comes after a difficult start to the 2021/22 campaign where the playing squad was reduced to 25 in-form players with key operators Malaki Fekitoa, Joe Launchbury, Jack Willis and Dan Robson all having had spells on the sidelines.
Josh Bassett joined Wasps ahead of the 2013/14 season
©David Howlett
There was even a time when Blackett had no loose props in shape at the club, Ben Harris and Tom West both out of action at the same time, with Gordon Reid recruited at short notice.
Despite all those initial setbacks, the Coventry-based club are only 80 minutes away from a European final in Marseille and with three games to go in the Gallagher Premiership season they have a mathematical chance of progressing to the play-offs. .
Late-season form was also buoyed by a reshuffle of the coaching staff, with John Mitchell taking charge of defense and Matt Everard swapping with the New Zealander to lead the attack. The adjustments in the back room have helped the Wasps to six wins in their last seven games.
The only game in which the Midlands side failed to triumph was the club's last Premiership outing which saw them draw 42 with London Irish at Brentford Community Stadium.
"At the beginning we were very unhappy with an injury, like all teams," Bassett said. "Being down to 25 fit players for training certainly makes it difficult for everyone, and you throw Covid situations into that.
"All the clubs have been through different things. The best thing we've done is show resilience to come back from that and then build on what we did at the start of the season.
"Obviously if the London Irish game had ended the way we would have liked it would have strengthened our position in the league, but every minute game is knockout rugby for us, even in the league. .
"Every game is as important as the last. That's where you want to be as a rugby player. We would have liked to have done that a bit better earlier in the season, to put ourselves in a better position in the league, but we're really proud of what we've built on and the milestones we're reaching.
A recent report from CoventryLive revealed that the potential departure of James Gaskell will mean Bassett, Joe Launchbury and Rob Miller will be the three remaining players at Wasps since the club moved to the Coventry Building Society Arena in the summer of 2014.
In that time the club have reached two Premiership finals and last summer they opened their new state-of-the-art £4million training center at Henley-in-Arden. For the seven years leading up to this move, Broadstreet RFC's Ivor Preece Field was the team's daily home.
"We've always been nomads, even in London," Bassett said. "Moving to the West Midlands, going to Broadstreet, which we knew was temporary, but now we finally have a base and a home and what a home it is.
"It's such a big facility. There are so many plans to make it even better. We are so lucky. The main thing for me is that Wasps have something of their own to put down roots and allow the club to grow even further.
In Josh Bassett's first season with Wasps, he made 15 appearances
©David Howlett
"I still remember the first presentation at the Hilton in Ealing, they showed us the map and where we were going.
"Being there for this whole process, and there are only a few of us left, sometimes you have to explain to the guys that it wasn't like this before and not take it for granted.
"We didn't have a base, we were renting a stadium, all those little things, and seeing how well the club did, and it's up to Derek [Richardson] and everyone on the board because this club was very close to not existing just before I arrived.
"I'm sure when it first happened there were fans who were very skeptical about it, but I think you look at CBS, it's an amazing stadium and now you look at the center epic training, it's amazing what the club has done, having its home and its roots now, it allows the club to develop and really grow.
In the past, Kevin Harman [Wasps' Head of Recruitment and Academy] told TRU how he considered Launchbury, Sam Jones, Christian Wade, Elliot Daly and Joe Simpson to be the backbone of the club, but only the former remains.
Re-establishing their academy system in the Midlands, the team now see Barbeary, the Willis Brothers, Charlie Atkinson, Gabriel Oghre and Sam Spink emerge and this group of players have the ability to take the club to the next level rather than Wasps who rely heavily on imports from other Premiership clubs and even further afield.
Bassett's importance to Blackett is also evident, the 30-year-old is a constant on the team roster, and he's always honest about what the team has given him. He's made nearly 200 appearances, launched a drinks brand, Socialalong with Brad Shields and former teammate Jake Cooper-Woolley is godfather to his second son.
"It's changed quite a bit, from being pretty calm and sitting in the corner, being in various groups around leadership, being in advocacy meetings and being able to give your experience and your opinion and I certainly don't take not that for granted," he said.
"It's been a lot of hard work to get to this point, and there have been bumps in the road, but what I'm looking at is all the experiences I've had, and if you can see me adding anything thing, that's what I want to do because I love this club.
"I've been here for nine seasons and I want it to continue. It's such a big club, and now it has its base, I'm so excited for the future."
That future begins now with a trip to fifth place in the Top 14 at Mamut Stadium. Having faced Gloucester, Dragons, Perpignan, Benetton, Worcester and more recently Glasgow in the competition, Bassett for his part is ready to take up the challenge that Pierre Mignoni's team will pose to him on Saturday.
"They are in good shape," he said. "You look at how they played against Glasgow at the weekend, and they came to life in the last 20 minutes. They're at home, in front of their supporters, it's going to be hot, it's another artificial pitch, and all those factors are taken into account.
"The main thing is that it is a European semi-final, and these games are not repeated often. You have to work so hard to put yourself in this situation and we have made it a point this season to make sure that everyone enjoys the week and that everyone enjoys it.
"It took a lot of work this season to get this opportunity, and it's something we're excited about. Going to Europe, to France, it's exciting. It's what you want to get involved in as a club. and as a player.