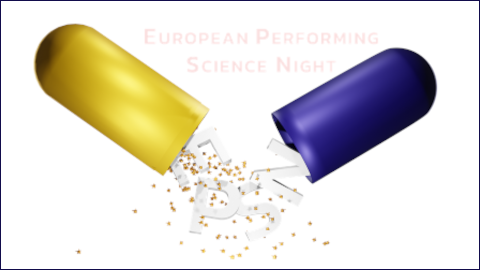 European Performing Science Night, a project with the participation of UAB for the European Researchers Night
The EPSN, led by the Fundación Épica-La Fura dels Baus, will organize several events for the next European Researchers' Night, to be held on September 24, in Badalona. The project, which will soon open a call for participation, will show how researchers contribute to society in a multidisciplinary format that is attractive to a wide range of audiences.
A research team led by the Fundación Épica-La Fura dels Baus won the prestigious European Researchers Night with the European Performing Science Night project.
The European Researchers' Night, funded under the Marie Skłodowska-Curie Actions (MSCA), is a European-wide public event that brings researchers together with civil society. La Nuit offers researchers the opportunity to showcase the diversity of science and its impact on the daily lives of citizens, and to stimulate interest in research careers, especially among young people. The events highlight how researchers contribute to our society by exhibiting their work in an interactive and engaging forum.
Over the next six months, five multidisciplinary research partners will work according to the new methodology proposed by the Fundación Épica-La Fura dels Baus, specially designed to stimulate multidisciplinary R + D + i processes and to catalyze the transfer of knowledge towards the civil society. The events are scheduled to take place in Badalona in September 2021.
The partners include the Universitat de Barcelona, ​​the Universitat Autònoma de Barcelona, ​​the Universitat Oberta de Catalunya, the IGTP research center and the University of Aix-Marseille, which together represent expertise in areas as diverse as neuroscience, health, linguistics, climate emergency, translation and philosophy. On behalf of UAB, the project is coordinated by Pilar Orero, researcher in the Transmedia Catalonia research group of the Department of Translation and Interpretation and East Asian Studies. The other participants are Miquel Edo and Anna Matamala, from the same group and department, and David Casacuberta, from the philosophy department.
The European Performing Science Night will itself be a scientific event, where research groups will deploy experiments with a wide range of civil society – both online and face to face. The audience will perform in artistic terms, fostering an understanding of the impact of research on the daily lives of citizens and encouraging young people to embark on careers in research. The project will demonstrate the value of EU investment in EU research, based on the diversity of the EU and the richness of approaches and languages ​​across communities.
In June, the project will launch an open call for creative agents, technologists and scientists to participate in the development of the project.
/ Public communication of the UAB. This material is from the original organization and may be ad hoc in nature, edited for clarity, style and length. See it in full here.