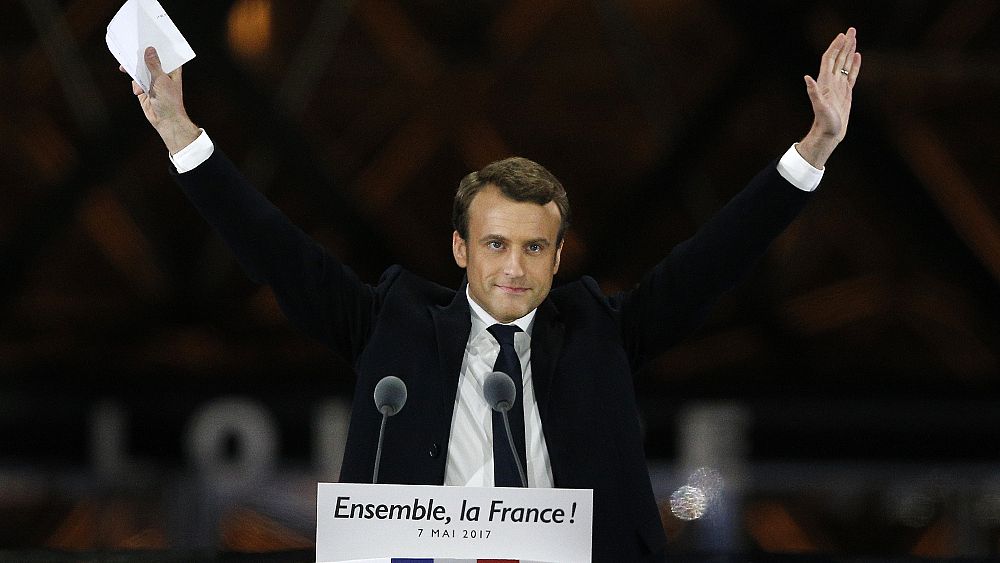 Elections in France: who is who in the race to overthrow Macron?
The list of people who hope to upset and overthrow Emmanuel Macron is growing rapidly with just four months of the French presidential election.
Macron has yet to announce he will run for a second term, but he is generally expected to do so. His main challenger within the centrist La République en Marche party would be former Prime Minister Edouard Philippe, but the mayor of Le Havre unequivocally refused to throw his hat in the ring.
Polls, for now, all point to a Macron victory, but the French presidential election is notoriously unpredictable. Macron himself is the perfect example of launching a political movement just months before the 2017 elections he won.
Key issues for the election include work and the cost of living – a debate sparked by the 2018 Yellow Vest protests – as well as the environment, immigration and security.
Euronews takes a closer look at those who are vying to challenge Macron.
Marine Le Pen – National Gathering
Considered Macron's main rival and slated to join him in the second round of the plebiscite is Marine Le Pen.
The far-right leader, 53, is sticking to her favorite themes, namely immigration and security.
Among the measures she mentioned are the end of naturalization by marriage and automatic nationality for people born on French soil.
It also plans to restrict access to family allowances only to French people with a waiting period of five years for foreigners.
It also wants to abolish subsidies for "intermittent energies", including wind power and photovoltaics.
However, she abandoned the idea of ​​leaving France from the European Union, the Schengen area or the euro.
Le Pen has sought to soften her party's image since taking over from her father – who has been repeatedly convicted for his anti-Semitic comments. It made the party more mainstream but it now risks being overwhelmed on the right by a new personality, Eric Zemmour.
Its main challenge will be to build its credibility on issues outside immigration and security. Her lack of economic experience and knowledge saw her gutted by Macron during a televised debate in 2017.
Jean-Luc M̩lenchon РLa France Insoumise
The left-wing populist leader, 70, came fourth in the last presidential election, garnering nearly 20% of the vote in the first round. Right now, polls give him about 10% of the ballots.
So far, its proposals have focused firmly on social issues and the cost of living.
For example, he announced that he planned to create a "social emergency law" that would freeze the price of basic necessities, including fuel, gas, electricity and certain food products.
He also wants to increase the monthly minimum wage from € 1,258 net currently to € 1,400 net.
Mélenchon is a controversial figure. He was given a three-month suspended prison sentence and a € 8,000 fine in December 2019 for intimidating officials who searched his office as part of an investigation into funding irregularities.
Anne Hidalgo – Socialist Party
The 62-year-old is the current mayor of Paris, having won a second term in 2020.
She called for "rebuilding" the education and health systems and said "the issue of work must once again become a central issue".
Like Melenchon, she plans to increase wages. She said that one of her first acts as president would be to convene negotiations with the unions "to put the French in a position where they can live with dignity from their work".
She also positions herself as an environmentalist. Among the measures it has rolled out in the French capital are restrictions on car traffic in parts of the city and more cycle paths. Its new mandate provides for the planting of 170,000 trees, the energy renovation of buildings and the end of plastic in school canteens.
It faces two major challenges. The first is that she is seen as a local politician, linked to Paris. The second is that she is the candidate of a party in difficulty. The Socialist candidate in 2017 only obtained 6.2% of the vote, a record for the party. This was followed by heavy defeats in parliamentary elections and in the European Parliament.
Polls currently give him between 4 and 7% of the vote.
Yannick Jadot – Green Party
Jadot, 54, is an MEP who had already won the Greens' ticket for the 2017 presidential election, to finally join the socialist candidate.
This time, such an alliance seems unlikely even if the two left-wing parties have joined forces to win the municipal elections in Paris and Marseille.
His agenda includes promises to end intensive livestock production and weaken lobbies that he says "are swallowing up subsidies and public policies to make climate, health, environment and social justice finally take hold. not".
"Each euro of public money will be conditioned on the protection of the environment. Not a single euro for Total as long as Total does not break with its logic of always looking for more oil and more gas in the ground," he said. -he declares.
It also plans to restore a wealth tax and further tax financial assets that invest in fossil fuels.
Finally, he unveiled a plan to inject 50 billion euros per year during the five-year mandate to "repair" the country and "rebuild" the economy. The funds would go to infrastructure, housing and transport projects and help the economy move into "a virtuous circle of responsible investment and consumption".
The polls give him between 6 and 9% of the votes.
Val̩rie P̩cresse РThe Republicans
Valérie Pécresse has been chosen by members of the right-wing Les Républicains party to be their first female candidate for the French presidential election.
The head of the populated region of Ile-De-France, in which Paris is located, is also twice Minister of Higher Education and the Budget.
It is committed to reviewing the plans for closing nuclear reactors, conceding however that nuclear will not be enough and that renewable energies must be stimulated. Other proposals include a carbon tax at the borders of Europe and a "European preference in public procurement".
She also called for wage increases and reforms to unemployment and pension systems and pledged to reduce public debt.
To win the nomination, Pécresse defeated several leading candidates from his party, including Eric Ciotti, an extremist deputy from Nice; Xavier Bertrand, president of the Hauts-De-France region; Michel Barnier, former European Brexit negotiator; and Philippe Juvin, a mayor who rose to prominence amid the COVID-19 pandemic.
Eric Zemmour – Reconquest
Controversial columnist, television expert and author Eric Zemmour also threw his hat in the ring for the French presidency.
Zemmour, 63, is famous for his provocations on Islam, immigration and women who have seen him repeatedly sued. He was convicted of inciting racial discrimination in 2011 and inciting hatred against Muslims in 2018.
He argues that France is in decline both geopolitically and economically, which he blames on immigration, as well as the "Islamization" and "feminization" of society.
The television specialist created a media frenzy in France, prompting the French media regulator to decide that he should be considered a politician and not a journalist and that his airtime should therefore be subject to limitations ..
Zemmour's offer for the Elysee Palace could hurt Marine Le Pen as the two have similar positions. Several personalities from her party have already called on Zemmour to join her.
It could also lead the candidate of the Republicans to turn to the right on certain topics including immigration and security in order to stem a possible exodus of votes.
Every weekday, Uncovering Europe brings you a European story that goes beyond the headlines. Download the Euronews app to receive a daily alert for this and other last minute notifications. It is available on both Apple and Android devices.