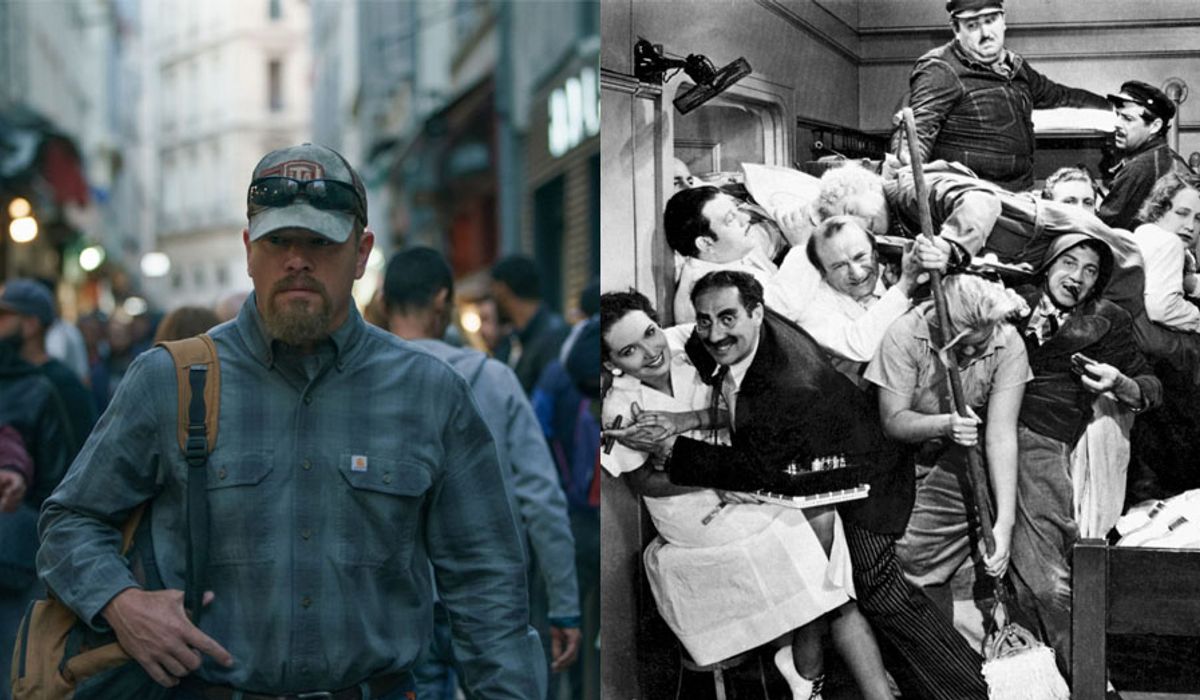 Blu-ray Movie Reviews: "Stillwater" and "A Night at the Opera"
Here is a look at two films recently released in Blu-ray format.
Still water (Universal Pictures Home Entertainment, Rated R, 1.85: 1, 139 minutes, $ 34.98) – Matt Damon stars as Bill Baker, an unemployed Oklahoma oil worker desperately trying to prove his daughter innocent of the murder in director Tom McCarthy's crime drama very loosely based on the Amanda Knox case.
Mr Baker's mission is nearly insurmountable with Alison (Abigail Breslin) convicted of killing her college roommate in France and serving up to nine years in the country's prison.
Making trips back and forth to France and ending up befriending and living with a mother (Camille Cottin) and her young daughter (Lilou Siauvaud), he fights linguistic and cultural barriers in an investigation that slowly uncovers a possible suspect and the real murderer.
Mr. Damon's workman performance shows stoic but sometimes out of character irrational determination as he struggles to mend a broken relationship with his daughter and free her.
The film revels in a character study of the connection between a broken father and an equally broken daughter.
With the majority of the action taking place in Marseille, the high-definition presentation offers a panoramic travelogue of the city and its surroundings, including the breathtaking coastal canals in the Calanques National Park.
The best extras: Three featurettes, about 10 minutes in total, offer a very superficial vision of the production centered on the setting, the place and the genius of the director.
A night at the opera (Warner Bros. Home Entertainment, unrated, 1.37: 1, 92 mins, $ 21.99) – The legendary Marx Brothers were unleashed on an ocean liner, then on to New York to cause comedic mayhem in director Sam Woods' 1935 musical which debuts in Blu-ray format.
In the story, Groucho plays Otis B. Driftwood, entrepreneur of the wealthy widow Mrs. Claypool (Marx Brothers outwits Margaret Dumont).
While in Milan, Italy, he convinced her to invest in the New York Opera Company to help pompous owner Herman Gottlieb (Sig Ruman) hire great tenor Rodolfo Lassparri (Walter Woolf King) and help Ms. Claypool make part of high society.
Driftwood meets Fiorello (Chico), the manager of struggling opera singer Ricardo Baroni (Allan Jones), who happens to be in love with star singer Rosa Castaldi (Kitty Carlisle). Driftwood signs a contract with Fiorello to hire Baroni (thinking he is Lassparri).
As Driftwood, Claypool, Gottlieb, and Lassparri depart for America on an ocean liner, Baroni, Fiorello and the disgruntled costume assistant Tomasso (Harpo) sneak aboard the ship as they search for Castaldi.
Driftwood eventually works with the stowaways to embarrass Gottlieb and Lassparri and reunite the young lovers on the Big Apple opera stage.
This bizarre celebration of opera (with 10 musical numbers, nothing less) is also filled with upper-class mockery.
Sure, the laughs, slapsticks, and one-liners are fast and furious, but really culminate in a heart-wrenching scene set in a booth as Groucho packs the humans into the sparse space.
Part of the Warner Archival Collection, this new high-definition transfer built from a 4K digital scan provides an excellent, mostly crisp black-and-white experience to appreciate the brothers' maniacal comic style.
The best extras: First watch a pre-show before the main event with three shorts that aired during the original theatrical release.
Specifically, the 10-minute comedy "How to Sleep", the 20-minute star-hosted showcase "Sunday Night at the Trocadero" and the eight-minute travelogue "Los Angeles: Wonder City of the West".
Then, go back and watch the film with an optional commentary track from one of film's greatest historians, Leonard Maltin. Mr. Maltin is never at a loss for words as he offers a loving tribute to one of his favorite films in a piece filled with anecdotes about the film and the Marx Brothers, the facts of the production and why "One Night at the opera "has such a brutal start.
Finally, enjoy a 1961 six-minute interview with Groucho by Hy Gardner as he talks about his work with Irving Thalberg as well as a 34-minute primer on the history of the Marx Brothers (released in 2004) with lyrics by comedy writer Anne Beatts, the extraordinary comedic actor Dom DeLuise and the venerable master comedian Carl Reiner.
Suffice it to say, Marx Brothers fans and anyone who loves to laugh will enjoy this release.