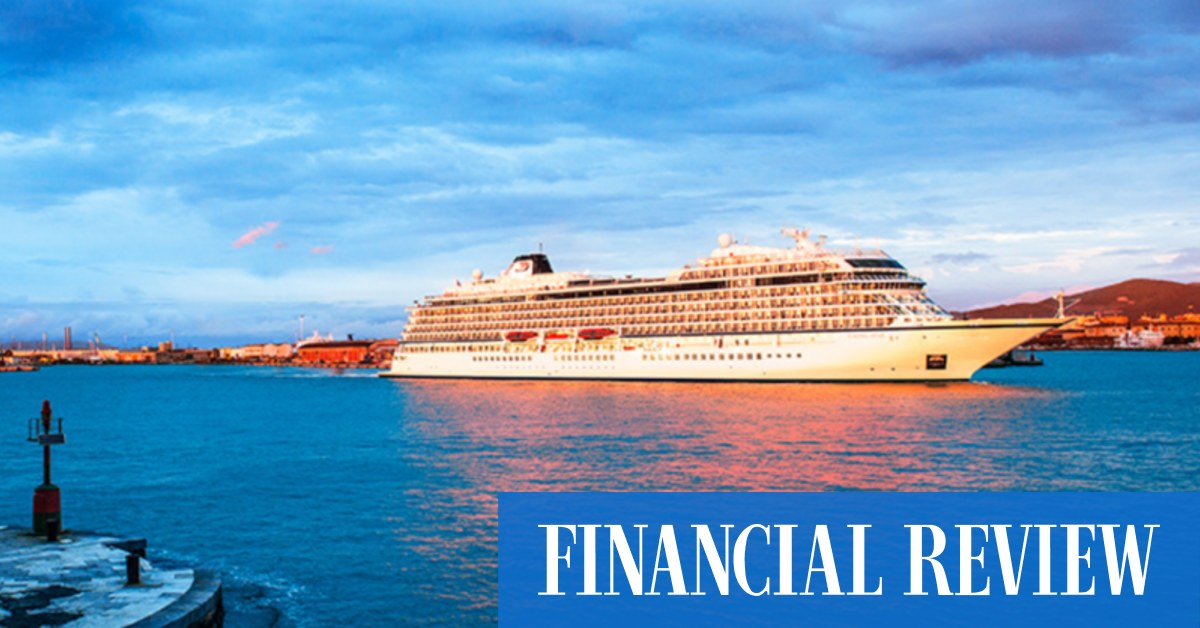 Blow away the cobwebs with a grand tour of the Mediterranean
I know (although rusty) the Italian content of the cruise from my studies at the Beaux-Arts long ago. It is worth revising, as Italy is our destination for the next two days. I soak up the summary – many years of history crammed into an hour – with a gin and tonic, courtesy of the theater bar. (This disproves the notion, heard in flirting circles, of "drinkers or thinkers"; the two, I discover, are not mutually exclusive).
The next morning we got soaked on our shore excursion to Pisa. Rain ricochets off the six white and gray limestone galleries of the leaning tower, remarkable for its tilt. Distracted by nasty showers and foggy glasses, I only have a hazy memory of that sight.
Back on board, I enjoy a cup of tea at the Wintergarden Conservatory. Within this massive glass cube are carved wooden branches to represent the Tree of Life. I scan my environment: four decorative metal panels occupy the corners of the cube. A member of staff told me that these scenes depicted a Norse myth in which two crows set off each day to fly around the world, returning each evening to share new knowledge with their god, Odin.
While the decor of the theme is subtle, the message is not; onboard enrichment is a Viking principle. I swear to work on my memory bank.
It is a pleasure to be driven through the cypress-covered hills of Tuscany en route to Florence, the paragon of the Renaissance. Our 20-minute slot at the Accademia Gallery allows for a brief communion with Michelangelo's Statue of David. The continued overexposure to the world's most famous statue doesn't lessen its impact (crowds are another matter). But I'm also fascinated by the group of statues that surround it, or Prigioni. They reveal how Michelangelo could imagine a figure even before beginning to carve into the
Marble of Carrara, likening the process to releasing a prisoner from incarceration.
From there, it's a crash course in Florentine highlights: the Uffizi, Palazzo Vecchio and the Ponte Vecchio that spans the Arno River. And finally, the splendid trio of cathedrals – the Campanile by Giotto, the Duomo by Brunelleschi and the Baptistery of San Giovanni with the bronze Gates of Paradise by Ghiberti.
Exit Italy, enter the waters of France! On the way, I attend a conference on French maritime ports given by the American historian Elizabeth Griffith. She regales us with stories of Barbary Coast pirates (ruthless), the slave trade (shocking), and the galleys where, in addition to captured slaves, many French criminals and Huguenots were destined for a miserable life – and short.
A loud bang welcomes us to Nice, which turns out to come from a cannon shot that fires every day at noon. The tradition dates back to 1861 when Sir Thomas Coventry-More, a retired Scottish soldier, summoned his belated (so unhappy) wife home for lunch. More appealing are the town's traditional flower markets, which inspired 19th- and 20th-century artists including Matisse, Chagall and Picasso.
But the highlight is the Matisse Museum, which traces the artist's evolution from still lifes of fruit to Fauve portraits of women and vibrant "scissor drawings" – the paper cuts that characterized his last decade of life.
It's a small jump by the sea from Nice to Marseille, where you stroll along the old quay, a former commercial port lined with yachts. It is this somewhat gritty town that inspired the nickname of the national anthem, The Marseillaise- French army captain Claude-Joseph Rouget de Lisle wrote the lyrics in 1792, and it was sung by volunteer soldiers who marched from Marseille to Paris during the French Revolution.
A mistral wind blows on the water, forcing us to take shelter in a bar on the port side and do as our co-occupants do: knock over glasses of pastis. They are experts in this field, which is not surprising since the country's much-loved drink originated here.
The next morning we disembark at Sète, a picturesque port town that stretches across a strip of land between the Mediterranean and a large saltwater lagoon. As our guide leads us along the banks of the Canal du Midi, we squint his reflection under a radiant sun. The 240 kilometer long canal connects Toulouse to Sète, having been commissioned by King Louis XIV and built between 1666 and 1681.
It's a different story at Barcelona's Sagrada Familia basilica, the masterpiece of surrealist artist Antoni Gaudi, who devoted his life to a project he knew would never end. Although construction began in 1882, it is still ongoing today. Our guide Laura says that when something takes a long time, like heating up a pot of soup, locals say "it takes longer than the Sagrada Familia".
The sandstone and granite spiers of this extraordinary basilica are punctuated by fantastic figures, bunches of grapes and sheaves of wheat. The last time I stood in front of this imposing edifice, the spiers were not yet finished.
It's inspiring to witness a masterpiece in the making. As Laura says, "I feel privileged to watch this project, something that is changing. We are always witnessing something new.
Looks like I'll have to come back with Viking in the future to review the Sagrada's progress – and mine. It's a great idea.
In order
viking sky is a 227-meter cruise ship, built in 2017. It has six categories of all-veranda rooms that can accommodate a maximum of 930 people.
Restoration Options The ship is part of a fleet of eight identical liners, each with eight dining options and three bars. Don't miss at least one experience at The Chef's Table; the multi-course menu changes regularly. My favorite? The Mexican menu, which is just as good as the first class food I've enjoyed in Mexico City. Other notable meals include Osso buco at Italian restaurant Manfredi and poached Norwegian salmon at World Café.
In a word What I love most about Viking Sky is the blond Scandinavian wood decor and bright cabins, and the nothing-too-problem attitude of the staff, which makes the cruise so relaxing. The daily afternoon tea – scones and cream and a tiered sandwich platter – in the Wintergarden is pure bliss.
The perfect soundtrack for this cruise would be any track from the L'Arpeggiata album, Mediterranean. I will refrain from recommending a book title; it would ruin the fun of browsing Viking's library. I particularly recommend the upper level travel selection in the Explorer's Lounge.
COVID-19 protocols on board Guests have a rapid antigen test on boarding (this is also required by the Italian authorities when leaving their shores). Each morning, all clients provide a saliva sample in the small tubes provided. They also complete a brief health survey through the Viking Experience smartphone app. Temperatures are taken daily (non-invasively: you simply look at a screen, which reads your temperature).
Similar eight-day Mediterranean itineraries Prices this year start from $3,495 pp in a veranda stateroom, rising to $10,995 pp for the owner's suite. For full details, including cancellation policy, see vikingcruises.com.au or tel. 138,747.
My Next Viking Cruise Definitely the "Viking Homelands" trip. This is a Norwegian owned fleet, with Viking symbols and references throughout, so I can't imagine a more atmospheric trip.