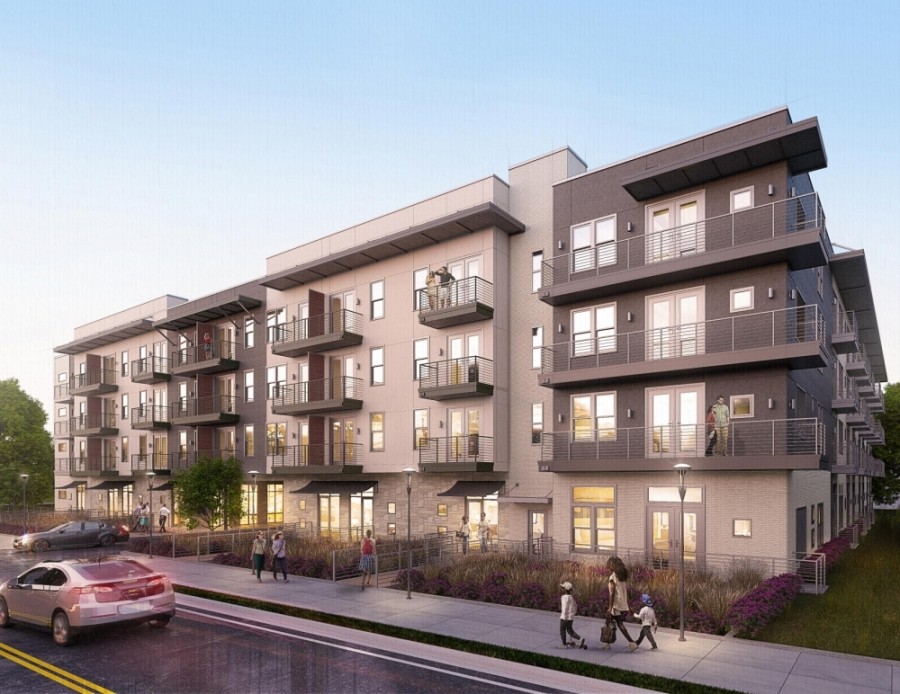 Austin Development Updates: Apartments could replace two bars on Rainey Street, 307 affordable housing units coming to South First Street
The Bridge at Turtle Creek apartment complex will provide over 300 affordable units upon completion in 2022. (Courtesy of Journeyman Group)
Learn about the latest developments in Austin, including a proposed tower on Rainey Street and other changes in the St. Elmo neighborhood of South Austin.
1. Another apartment tower may be on its way to Rainey
">
569-foot apartment tower that could replace bars at Rainey Street Craft Pride and Javelina has passed city approvals milestone
October 26. River Street Residences would provide approximately 409 rental units and commercial space on the ground floor. While this space may include restaurants or bars, the future of Craft Bar and Javelina is unknown.
Space: 505,409 square feet
Chronology: to be determined
2. Affordable housing complex in South Austin opens in December
A 307-unit affordable housing complex is slated to open in December at 735 Turtle Creek Blvd., Austin, according to the developer, after Austin City Council approved the bond issuance on Oct. 29.
The $ 66 million Bridge at Turtle Creek project will provide 126 energy efficient units, 104 one-bedroom options and 77 two-bedroom units to tenants earning at least 60% of the median family income in Austin, or $ 97,600 for a household of four. . The total area of ​​the project is approximately 258,000.
The Journeyman Group is developing the project in partnership with Austin Affordable Housing Corp. and the City of Austin Housing Authority. To fund the project, the council authorized the issuance of $ 44 million in private activity bonds on October 29.
Construction is expected to take around 18 months, with an estimated opening date of summer 2022.
Space: 258,000 square feet
Chronology: December 2020-summer 2022
3. The apartments could replace food trucks in the Saint-Elme region
A new apartment complex could be on the way to South Congress Avenue, replacing a storage facility and food truck yard in the future St. Elmo market area.
The Austin Planning Commission has approved an application from South Congress Development LLC to build 280 apartments with 5,000 square feet of residential and commercial space on the ground floor.
Amanda Swor of the Drenner Group, representing the claimant, said 14 units will be for families up to 50% of the median family income, or MFI, of $ 97,600 for a four-person household, and another 14 will be for families. families making up to 80% MFI.
The Austin Planning Commission approved the project on Oct. 27, adding a conditional overlay to ban adult-oriented businesses, services such as sureties and payday lenders, and outdoor entertainment, such as arenas. sports or amusement parks.
The St. Elmo neighborhood is a 2 square mile rectangle south of West Hwy. 290 between South Congress Avenue and I-35. Several large-scale developments are under construction or on hold in the neighborhood, which will bring more than 170,000 square feet of retail and office space, 286 hotel rooms and more than 1,200 multi-family units.
The Saint-Elme public market, a development slated to open in 2020 before being delayed, will include 25 vendors, including a butcher from Salt & Time; Coffee of the largest goods; and Mignette, a restaurant by Michael Fojtasek from Olamaie.
Space: 280 units on 2.4 acres
Chronology: to be determined