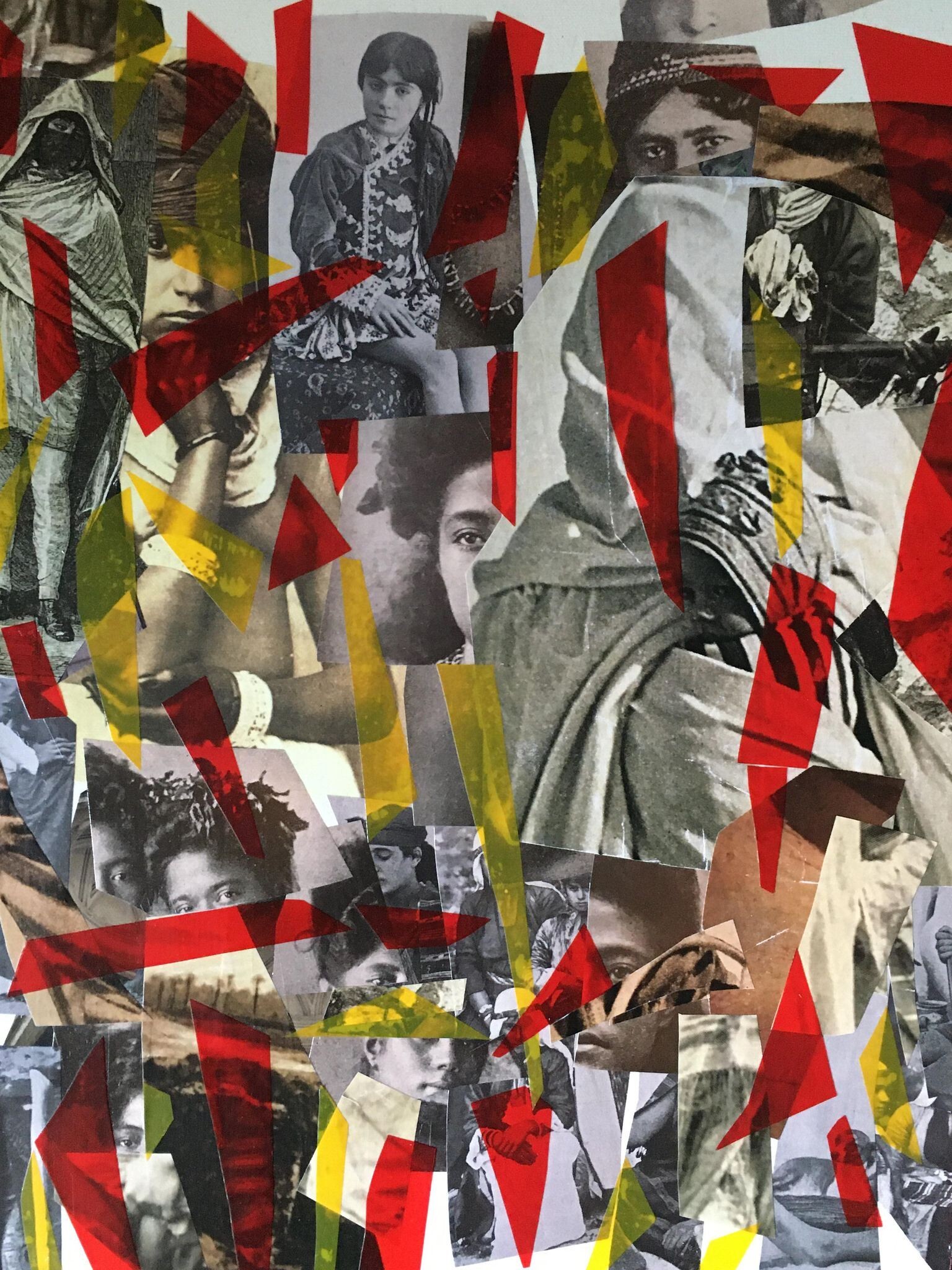 Amina Zoubir: Archeology of the colonized body – Announcements
Amina Zoubir
Archeology of the colonized body
From April 28 to July 28, 2021
MARKK Museum am Rothenbaum Kulturen und Künste der Welt

Rothenbaumhaussee 64

20148 Hamburg
Germany
Amina Zoubir's work focuses on the representation and appropriation of the female body in colonial and ethnographic influenced photographs from North Africa. The photo collection of the MARKK contains many of these photographs, which also constitute a stimulating collection for the museum. As historical objects and testimonies, the museum stores and preserves them. However, their origin coincides with an era of colonial and scientifically European power structures and imbalances, which are directly visible in photographic depictions of people and the images they create. Through uncritical reproduction, exposure and viewing, there still exists today the danger both of solidifying these images and of continuing and violent objectification of the people depicted.
On the other hand, the strength of Amina Zoubir's work lies precisely in the fact that, through a deliberate deconstruction and refocusing of these difficult portraits and the images they convey, the people represented are placed at human height as subjects , breaking with their historical context. original, thus made and kept visible in a new way. The serial reproduction, like a collage, highlights the extremely high number of women affected by this colonial appropriation of their bodies.
Curatorial statement written by Jana Caroline Reimer, Curator, North Africa, West and Central Asia and Ancient Egypt, MARKK Museum am Rothenbaum.
Archeology of the colonized body was the first solo exhibition of artist Amina Zoubir at the MARKK Museum in Hamburg, Germany. The presentation of his research and his collage-works began with an artist conference held at the Zwischenraum MARKK Museum with Amina Zoubir (visual artist and videographer), Jana Caroline Reimer (commissioner for North Africa, Western Asia and central at MARKK), Stephan Köhler (Kulturforum Süd-Nord) and Skadi Sarnoch (Zwischenraum/ MARKK in motion) who focused on his practice of serial collage-works presented at Archeology of the colonized body and the question of the photographic representation of the body in the colonial era, particularly in North Africa. Amina Zoubir also talked about her residency at the Kulturforum Süd-Nord, when she conducted her research on the ethnographic photographic collection of the MARKK museum.
Amina Zoubir's collage works presented at the Markk Museum were created as part of the second chapter of the artist residency "Reversed Exploration", to which she was invited by the Kulturforum Süd-Nord eV in spring 2021 and presented at the Markk Museum. His residency was supported by M.Bassy, ​​the Behörde für Kultur und Medien and the Liebelt Foundation.
Thanks
Stephan Köhler, president of Kulturforum Süd-Nord, Catharina Winzer, head of the photographic archive of the MARKK museum, Björn Lux, founder of M.Bassy, ​​Marleen-Christine Linke, coordinator at M.Bassy, ​​and the whole team and the museum's partners, in particular Skadi Sarnoch and Myriam Hellerich.
Amina Zoubir is an Algerian visual artist and videographer working on the notion of body language in specific and public spaces to question and analyze social and historical thoughts in North Africa. Through her poetic art of seeing the human/animal/object body, she pushes us to reflect on the established rules of our contemporary society. Amina Zoubir's work has been exhibited in biennials, Lahore Biennial (2020), Venice Biennial at the first Algerian pavilion (2019), Cairo Biennial (2019), Dakar Biennial (2018), Lagos Biennial (2017 ), Lagos Photo Festival (2017), Casablanca Biennale (2016), Addis FotoFest (2014), BY14 Yakutsk Russia Biennale (2014), Pontevedra Biennale (2008) and shown in group exhibitions in museums, MAXXI Museum Rome Italy , MUSAC Leon Spain, CAAM Las Palmas in Canary Islands, Torrance Art Museum, California. She was an artist residency grantee at Konstnärsnämnden iaspis, The International Artists Studio Program in Stockholm (2020, Sweden), the Bag Factory in Johannesburg (2019, South Africa), Cité Internationale des arts in Paris (2014, France) , Cinémathèque Tanger (2013, Morocco), Videochroniques Aflam in Marseille (2010, France), Michelangelo Pistoletto Foundation in Bari (2008, Italy). His works have been part of public and private collections at the Markk Museum (Hamburg, Germany), Etnografiska Museet (Stockholm, Sweden), Donwahi Foundation (Abidjan, Ivory Coast), FRAC Occitanie Fond Régional D'Art Contemporain, Les Abattoirs ( Toulouse, France), African Artists for Development (Paris, France).