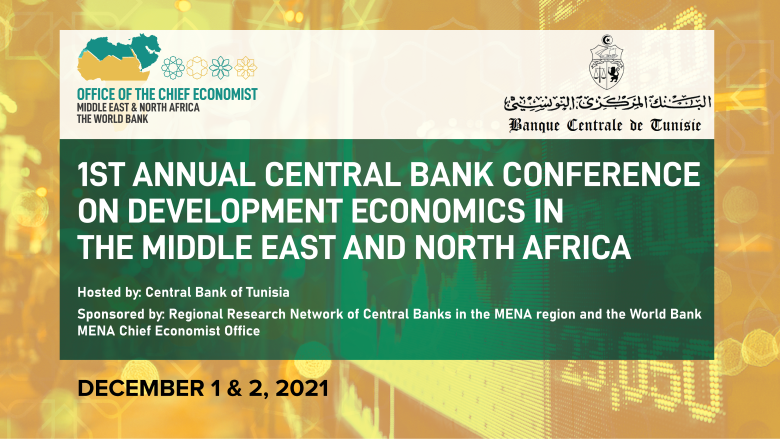 1st Annual Central Bank Conference on Development Economics in the Middle East and North Africa
Central banks have been at the forefront of the COVID-19 crisis to mitigate their effects through accommodating monetary policy responses in environments characterized by tight fiscal policy and high government debt in the MENA region. This new environment opens up many questions on how to design monetary policy in the face of uncertainty. Indeed, the growing risk of economic disruption, both within the region and beyond, underscores the need to design effective monetary policies to enable MENA countries to prepare for, resist and recover from disasters. . In addition, developments in financial technologies, blockchain and digital currencies present both opportunities and challenges for central banks. By profoundly changing the world we live in, these innovations are forcing institutions like central banks to anticipate how high-tech financial solutions could improve efficiency and bottom line across a wide range of industries.
The 1st Annual Central Bank Conference on Development Economics in the Middle East and North Africa is organized by the MENA Regional Central Bank Research Network and the World Bank Office of the Chief Economist from the MENA region. It is hosted by the Central Bank of Tunisia.
The theme of the conference is "Macroeconomic Policy: Innovation and Challenges in Times of Uncertainty". The conference will take place over two days, December 1 and 2, from 8:00 a.m. to 12:00 p.m. (EST, UTC-5) / 2:00 p.m. to 6:00 p.m. (CET, UST + 1) each day. It will take place online via the Zoom platform. The conference will include opening remarks by Roberta Gatti (World Bank Chief Economist for the MENA region); a keynote address by Carmen Reinhart (Vice President and Chief Economist of the World Bank Group); a session on Central Bank Digital Currency (CBDC) including John Kiff (formerly IMF and Central Bank of Canada), Maria Soledad Martinez Peria (IMF); and a closing panel of central bank governors from the MENA region, moderated by Ferid Belhaj (World Bank vice-president for the MENA region).
The conference will also include three pairs of parallel sessions in which a total of 18 research papers will be presented, grouped according to the following session themes: Macro Modeling in the COVID Era; Finance and Macroeconomics; Impact of the crisis on the banking sector; Macroeconomics of calamities; Management of economic cycles; and financial risks in the MENA region and the policy implications of the banking sector. This final parallel session will include a presentation by Leora Klapper on the financial risks facing the MENA region in light of the World Bank's upcoming World Development Report.